We invite all Polish exporters who want to operate on the British market after Brexit to the October webinar. This is an opportunity to gain valuable knowledge about new rules and new opportunities. Our experts will explain to us how to prepare for changes and what aspects to take into account when investing in the UK.
---> This webinar will be conducted in the Polish language <---
In April this year, for the first time since Great Britain left the EU, Poland recorded an increase in exports to that country - data from the Polish Economic Institute (PIE). According to PIE, the value of sales on the British market was 12 per cent higher than in April 2019 (GUS survey). Currently, the value of goods exported from Poland to the British market is growing month by month. These data clearly show a gradual recovery of Polish exports to the UK after Brexit.
Despite major changes on the British market, exports to the Islands are still attractive to Polish entrepreneurs, says Michał Dembiński, chief expert at the British-Polish Chamber of Commerce. - Interestingly, in the case of other EU countries, we notice a decline in interest in the British market, up to 30% compared to 2019. Many companies from Germany, France, Spain, the Netherlands and Italy resigned from the British market, thus creating more opportunities for Polish companies.
But the new Brexit rules and the restrictions caused by the pandemic make the tasks difficult. At the beginning of October, the British government introduced phytosanitary and veterinary checks on EU products, and from January 1, 2022, full customs declarations will come into force, replacing the existing simplified rules. In addition, the UKCA product mark will apply from the new year, which will replace the current CE mark for goods admitted to circulation in Great Britain. These new requirements mean an increased need to invest additional time, people and money for Polish exporters who want to continue trading with the UK.
We want to help Polish entrepreneurs through this challenging transition. For the webinar New opportunities for Polish exporters in the UK after Brexit, we invited specialists who will explain how to prepare for the new restrictions and how to take advantage of the new opportunities that Brexit brings.
Who is this webinar for
Polish entrepreneurs who operate on the British market,
Polish companies that want to export to the UK,
Exporters who would like to enter world markets.
Agenda
(All times are given in CET)
11.00 – Welcome
11:10 – "New opportunities for Polish exporters in the UK after Brexit " Michael Dembiński, BPCC)
11:30 – Presentations from Experts
13:30 – Summary
13:45 - Online networking in breakout rooms
14:30 – Close
Costs & Tickets
Webinar attendance is free

Business Networking session £20 + VAT.
Networking is free for PBLINK and BPCC Members -use promo code while booking.
The first 10 non-members will receive free tickets
Speakers
Michael Dembiński, BPCC Advisor: New opportunities for Polish exporters in the UK after Brexit
Agata Dziwisz, Kochański & Partners: VAT, custom duty after 01.01.22
Huseyn Masmaliyev, SGS: T1, T2; GVMS, IPAFFs, EXDS and other requirements and Monika Grzebalska, SGS: Labeling of food products for the UK market after Brexit.
Antoni Zbytniewski, Raben Group and Justyna Dobraś - Michałowska, Fresh Logistics Polska sp. z o.o: Logistics after Brexicie - how to transport goods to the UK
General Veterinary Inspectorate experts:
Monika Marks: Import;

Paweł Mackiewicz, import of animal feed;

Krzysztof Bednarczyk, export of animal by-products;

Ewa Piotrowska, export of animal products;

Piotr Deryło, expert of animals and bio materials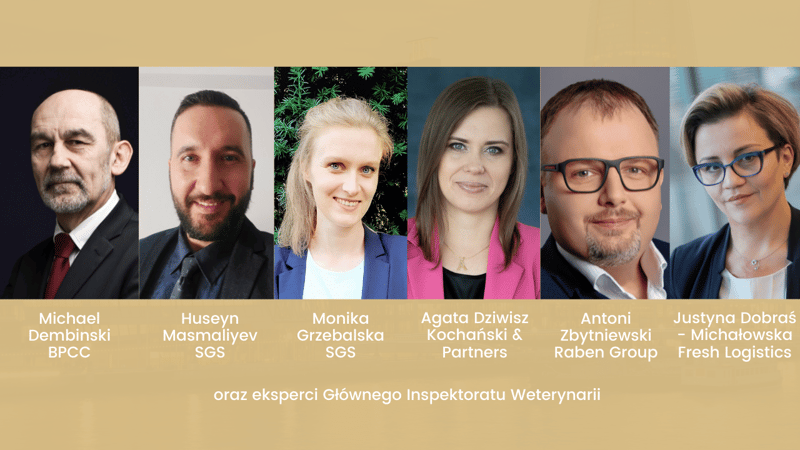 The Organisers
This webinar has been organised by Embassy of the Republic of Poland in London, Polish Business Link, Polish Investment and Trade Agency PAIH in London and British-Polish Chamber of Commerce.