We are delighted to invite you to a webinar where we will have the pleasure of hosting specialists from Amazon UK.
Are you considering venturing into e-commerce in the United Kingdom?
Are you in need of logistics solutions in the UK, specifically Amazon Fulfillment?
Would you like to gain practical insights into opening an Amazon Business 2 Business account?
This webinar is tailor-made for you!
We cordially invite you to join our webinar for Polish exporters interested in the British market.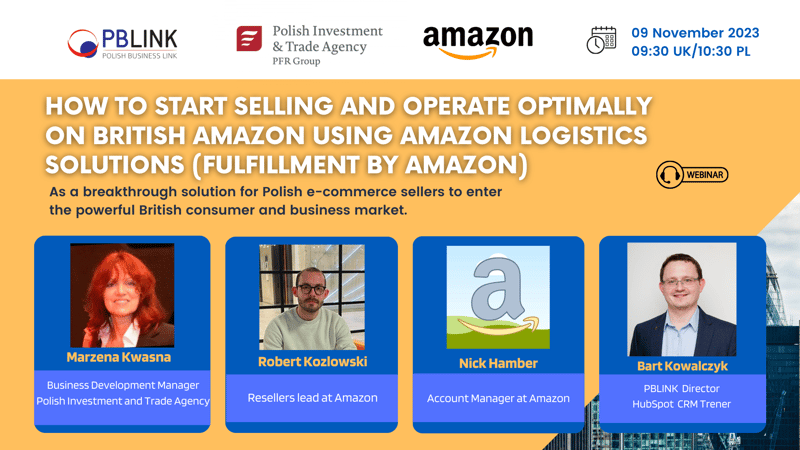 Discover how to kickstart your sales and optimize your operations on Amazon UK using Amazon's logistics solutions (Fulfillment by Amazon) - a groundbreaking solution for Polish e-commerce sellers looking to make a mark in the vast British consumer and business market.
Who is this webinar for?
This online event is aimed at Polish entrepreneurs looking to establish a presence in the British market, as well as those who are already present and want to optimize and streamline their business models using Amazon's logistics solutions (Fulfillment by Amazon).
Our intention is to provide you with up-to-date practical knowledge on how to sell products on Amazon, step by step, from account setup to FBA fulfillment.
We also welcome companies interested in internationalization and foreign trade development. During the webinar, you will have the opportunity to ask questions to experts from Amazon UK.
Webinar Program
Thursday, November 9, 2023 | 9:30 AM GMT (10:30 AM CET)
GMT Time (CET Time)
09:30 (10:30) - Welcome and introduction of speakers - Bartłomiej Kowalczyk, founder of Polish Business Link, Certified HubSpot CRM Trainer.
09:35 (10:35) - Introduction to the activities of the Polish Investment and Trade Agency, Marzena Kwasna, Business Development Manager at the Foreign Trade Office of PAIH in London.
09:45 (10:45) - Expert speeches conducted in English.
Robert Kozlowski: Resellers Lead, Amazon Business - Linkedin Profile.
Nick Hamber: Account Manager, Amazon - Linkedin Profile.
10:30 (11:30) - Q&A
11:00 (12:00) - Conclusion
Topics Covered
During the meeting, we will address the following topics:
Introduction to Amazon and its importance in the British market.
A brief history and evolution of Amazon.
The significance of Amazon in the British market.
Recent trends and statistics.
Step by Step from Account Setup to FBA Fulfillment
How to set up an Amazon account as a Polish company.
How to obtain an ASIN number and other Amazon requirements.
How to register a brand and obtain Amazon's approval.
How to create a product listing, taking into account VAT and other tax aspects.
How to plan and organize FBA for larger quantities of goods.
How to set up a store (seller page) on Amazon and utilize Amazon's promotional tools.
Aspects of Amazon Business 2 Business Accounts
What are the differences between B2C and B2B accounts on Amazon?
How to effectively utilize the features available for B2B accounts.
Case studies: Successes and pitfalls in managing B2B accounts.
Questions and Answers
Answers to pre-submitted questions.
Live Q&A session.


How to Register
The meeting will be conducted on the Zoom platform.
Fill out a short registration form with your contact details.
After registration, you will receive a confirmation of participation along with the webinar link.
Prepare your questions and experiences to share with the experts and other participants.
Participation in expert presentations and industry sessions is free of charge.
* The organizers reserve the right to cancel or change event details, including date, time, topic, speaker, agenda, and tickets, as well as cancel individual reservations without giving reasons.
Registration
REGISTRATION
Reserve your spot 🔽