Welcome to "2024 Vision: Property and Financial Markets Highlights & Summaries" your gateway to a comprehensive understanding of the dynamic landscapes of property and finance as we embark on the journey of the new year.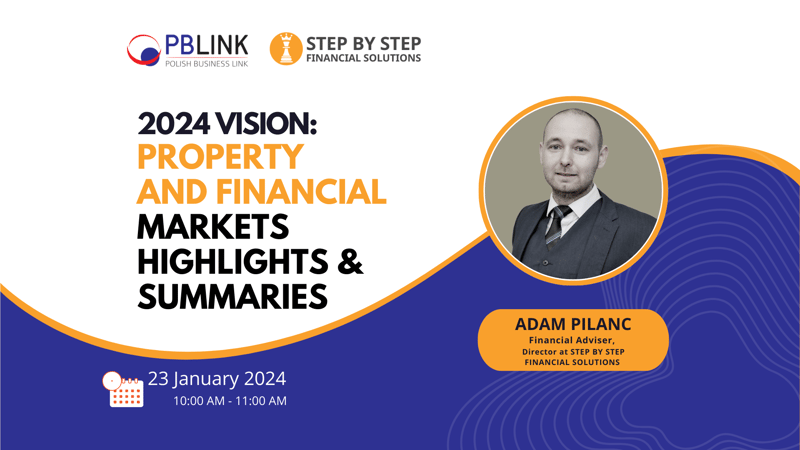 About the Event
This webinar is designed to provide you with a front-row seat to the key insights, emerging trends, and strategic maneuvers that will define success in the ever-evolving realms of property investment and financial markets.
Who is the webinar for?
If you are interesting to:
Exploring the Property Market
Staying in the Know with Financial Market Updates
Engage with Experts through Interactive Q&A Session.
This webinar is for you!
Agenda
10:00 Welcome from Bart Kowalczyk, PBLINK Director and founder of AutomataNow.
10:05 Guest speaker
Property and Financial Markets Highlights & Summaries
Adam Pilanc Financial Advisor, Director at STEP BY STEP FINANCIAL SOLUTIONS LTD
10:45 Q&A
11:00 Close
About the Expert
Adam is a very enthusiastic, CMAP qualified Financial Advisor and Director of Step By Step Financial Solutions. He originally arrived in UK from Poland. Straight after completing his degree in Marketing and Management at one of the well-respected universities in his home country Adam decided to begin his carrier working as an Estate Agent for the biggest Estate Agency group in the country.
After nearly four very successful years as a Senior Property Consultant Adam has begun his carrier in Financial Services and very quickly started his own company. With over 10 years of experience in Financial Services Adam is very excited about helping others achieving their own goals which motivates him every day.
Tickets
This event is free to attend- Register to receive your meeting link.
Registration