Interesting conversation between two professionals from the mortgage and finance industry. Sebastian Fuz and Chris Nairn.
On September 2022, the Bank of England raised interest rates to 2.25%, the seventh increase since December 2021. The bank uses interest rate increases to control inflation, which is now at its highest in 40 years. Market uncertainty and volatility occur everywhere, from financial markets and high streets to households.
At this event, we will try to answer what we can expect in the real estate markets in 2023 and what the current rising interest rates and starting prices mean for the costs of mortgage loans.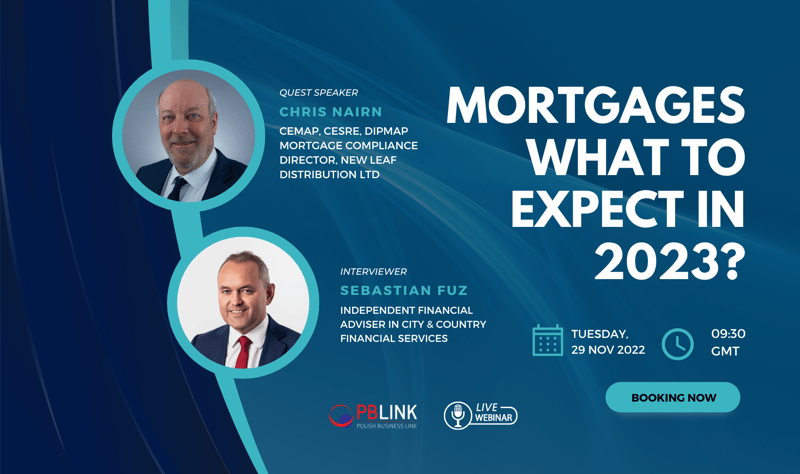 What will you learn?
What to Expect in 2023
Interest Rates
What has happened since 2008
What happened after March 2020
What is happening today
Affordability
Fact v Fiction
BTL Marketplace


Who is this event for
Company directors
Self-employed
For anybody who is thinking about a mortgage.
Format
Sebastian Fuz, Independent Financial Adviser in City & Country Financial Service, will conduct discussions with his guest Chris Nairn CeMAP, CeSRE, DIPMAP Mortgage Compliance Director, New Leaf Distribution Ltd.
Quest speaker

Chris Nairn CeMAP, CeSRE, DIPMAP Mortgage Compliance Director, New Leaf Distribution Ltd.
Interviewer

Sebastian Fuz CeMAP, DipFA, Managing Partner, City and Country Financial Services
Sebastian has 14 years in Finance and is a partner of City and Country Financial Services, a City of London company that offers a comprehensive range of services, including mortgages, protection, savings, business protection, will writing, investments and retirement planning. The company caters to English, Polish, Russian, Ukrainian, Hindi, Gujarati and Swahili clients.
Tickets
This event is free to attend—register to receive your Zoom link to join the meeting.
*The Organisers reserve the right to cancel or amend event details, including date, time, topic, speaker, agenda and tickets.