Money worries are one of the leading causes of stress, resulting in millions of lost working days each year. Join our webinar, during which we will discuss tips, tools and strategies for making the most of your money.
About this event
One in ten (10%) of UK adults feels hopeless about financial circumstances, more than one-third (34%) feeling anxious, and almost three in ten (29%) feeling stressed (Mental Health Foundation, Nov 2022).
Many people find money matters confusing and difficult to understand, which is why only 17 per cent of those in relationships regularly talk about finances with their partner. Financial planning does not need to be complex and stressful.
Agenda
11:00 Welcome Bart Kowalczyk, PBLINK Director and founder of AutomateNow
11:10 Experts talks:
-Lina Bourdon and Sebastian Fuz of CCFS
11:40 Q&A
12:00 Close
Experts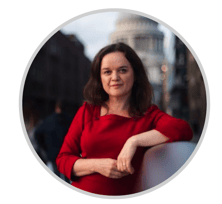 Lina Bourdon – the Founder and MD of City & Country Financial Services Ltd, a practice of Independent Mortgage & Financial Advisers based in the City of London
Originally from the Ukraine, Lina came in the UK in 2001. She was not able to find a job immediately and was told she was over qualified. Lina decided to take a different approach and set up her own business. In a short period of time and in the middle of the financial crisis she made a career in an industry dominated by men. Apart from running her business and working with clients Lina is well known for providing financial education to businesses and their employees. She has run financial seminars and workshops for a number of years. She also was a part of a project called "Money Made Clear" which was organised by the Financial Services Authority (the regulator of the industry at that time). Among organisations Lina has worked with are the House of Commons, Ministry of Justice, Home Office, UK Border Agency, John Lewis, Zurich, Sony, BUPA, NHS Trusts and local Government offices to name but a few.
Here's what people have said about Lina`s presentations:

"Lina is a credit to the Financial Industry. She explains money matters in a way that captures the imagination."
Percy Hutchful
JOHN LEWIS


"Many thanks for your presentation, there was much food for thought!"
J. Rumsam
THE HOUSE OF COMMONS, PARLIAMENT


"This is not the first time I have received really good feedback about your presenting style and your ability to make dry
material entertaining."
Isabelle Preece
Financial Capability Division, FINANCIAL SERVICES AUTHORITY


"Thank you so much for the presentation you gave to GOL staff... and for the follow-up advice and support you have
offered. Your presentation of a potentially rather dry topic was fun, engaging and inspiring,
and many staff told me subsequently how much they had enjoyed it."
Iain McNab
GOVERNMENT OFFICE FOR LONDON

"...The way Lina delivered the presentation was extremely interesting and whilst taking copious notes I felt that she
really motivated me to go back and review my finances again. Whilst, I am quite good at doing this and keeping a
budget, the information that Lina provided was certainly things that I did not know. "
CMJ
ZURICH GLOBAL CORPORATE UK


"It was very interesting and thought provoking… It made me think and I realised yesterday, that I work every day with account and have to manage revenue vs. costs in order to make a profit for the company I work for, why don't I
apply that to my money, what profit do I make?.. I only wish I'd spoken to you sooner. I can't wait to start putting some
actions in place."
Liz Burden
COMPUTACENTER


"Thanks for your presentation and you will be glad to hear that I have taken some actions from it already!"
Naveed Ashi
HOMERTON HOSPITAL NHS TRUST


"I thought your talk was fun and friendly and you are one of the best speakers I've heard in a long time making it
personal and relevant to everyone who was there."
Vicky Young
CATALYST HOUSING GROUP